#Hyperautomation #Market #Expand #CAGR #Cross #USD
New Delhi, Oct. 06, 2022 (GLOBE NEWSWIRE) — Global hyperautomation market is booming due to increasingly high adoption of combined advanced technologies, such as predictive analytics and artificial intelligence (AI), by various industry verticals to improve their operational efficiency.
BlueWeave Consulting, a leading strategic consulting and market research firm, in its recent study, estimated the Global Hyperautomation Market size at USD 548.2 million in 2021. During the forecast period between 2022 and 2028, BlueWeave expects the global hyperautomation market size to grow at a robust CAGR of 22%, to reach a value of USD 2,132.8 million by 2028. A high adoption rate of automated production methods by various industries, such as pharmaceuticals, is expected to be a major driver for the robust growth of global hyperautomation market.
Hyperautomation – Overview
Hyperautomation is used to enhance automation capabilities of enterprises by combining two or more advanced technologies, such as robotic process automation, predictive analytics, artificial intelligence (AI), and machine learning (ML). Hyperautomation is used to streamline workflow and boost manufacturing process efficiency with minimal human interaction. It helps in minimizing human involvement. Hence, hyperautomation helps organizations in lowering the risk of human errors and operational costs.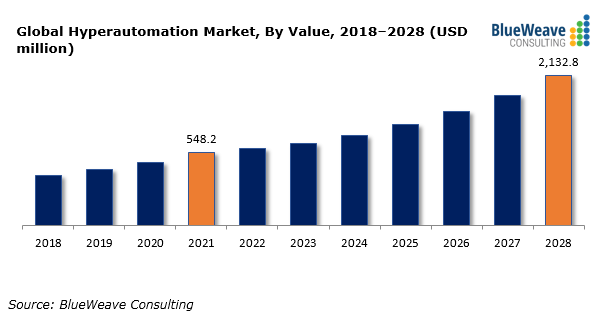 Request for Sample Report @ https://www.blueweaveconsulting.com/report/hyperautomation-market/report-sample
Global Hyperautomation Market – Technology Advancements
The rising adoption of automated production methods by various industries, such as pharmaceuticals, is responsible for market growth. Some jobs that were previously handled by humans are now undertaken by machines in the manufacturing industry. For example, Thermax Limited, an India-based leading provider of energy solutions, automated chemical mixing process at its plant in Dahej, Gujarat, India, in May 2019. Workers were removed…
Read on GNW: Hyperautomation Market to Expand at 22% CAGR to Cross USD