#Global #Manufacturing #Execution #Systems #MES #Market #Size
New Delhi, Oct. 27, 2022 (GLOBE NEWSWIRE) — Global manufacturing execution systems (MES) market is flourishing because of an increased emphasis on cloud-based services, mobility, and parallel data processing, rising demand for manufacturing execution system real-time analytical capacity, and rapid globalization.
BlueWeave Consulting, a leading strategic consulting and market research firm, in its recent study, estimated Global Manufacturing Execution Systems (MES) market size at USD 12.54 billion in 2021. During the forecast period between 2022 and 2028, BlueWeave expects global manufacturing execution systems market size to grow at a significant CAGR of 10.4% reaching a value of USD 24.80 billion by 2028. Global MES market is being driven by the rising awareness about modern security concerns, as well as increased need for well-connected supply chains in manufacturing industries. A greater emphasis on cloud-based services, mobility, and parallel data processing; rapid globalization; and increased infrastructure developments in major emerging economies are also important drivers of the market growth. However, high expenditures on research & development initiatives, inefficiency due to high installation and running expenses, rigorous regulations, and a lack of understanding about MES among small and medium-sized enterprises (SMEs) may limit the growth of global MES market.
Global Manufacturing Execution Systems Market – Overview
A manufacturing execution system (MES) is an information system that links, regulates, and operates complex production processes and data flows on the factory floor. The primary purpose of an MES is to ensure the efficient execution of manufacturing activities and to increase production output. An MES contributes to this goal by tracking and collecting precise, real-time data regarding the entire production lifecycle, from order release to finished goods delivery.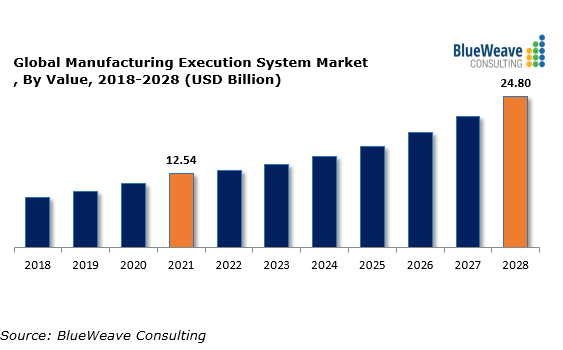 Read on GNW: Global Manufacturing Execution Systems (MES) Market Size