#Global #Industrial #Crystallizers #Market #Grow #CAGR
New Delhi, Sept. 28, 2022 (GLOBE NEWSWIRE) — Global Industrial Crystallizers Market is growing at a high CAGR because of the increased use of industrial crystallizers by end-use industries such as food & beverage, pharmaceutical, wastewater treatment, chemicals and fertilizers, power plants, agrochemicals, metal and minerals, construction industries, etc.
A recent study conducted by the strategic consulting and market research firm, BlueWeave Consulting, revealed that the Global Industrial Crystallizers Market was worth USD 3.5 billion in the year 2021. The Industrial Crystallizers Market is projected to grow at a CAGR of 5.2%, earning revenues of around USD 4.9 billion by the end of 2028. The global industrial crystallizers market is growing due to the increase in wastewater treatment and wastewater management by industries. Moreover, the use of industrial crystallizers in the production and purification of crystalline foods, drugs, chemicals, metals, fertilizers, etc., is also driving the growth of the global industrial crystallizers market during the forecast period 2022-2028.
Growing Pharmaceutical Activities to Drive Market Growth
Crystallization is a key operation in pharmaceuticals' processing, development, and manufacturing. Crystallizers are used in the formation of the pharmaceutical product, purification of intermediates, separation of intermediates and Active Pharmaceutical Ingredients (APIs), prevention of crystallization in amorphous products, etc. The crystallization process in pharmaceuticals is complex; it is developed by evaluating the type of equipment, solvent quality, recovering the solvent, maintaining temperature, time for reflux, effects of seeds, stirring RPM control, purification, and concentration of mother liquor. It is an essential step in the development of over 80% of drug products as it can control the size of crystals.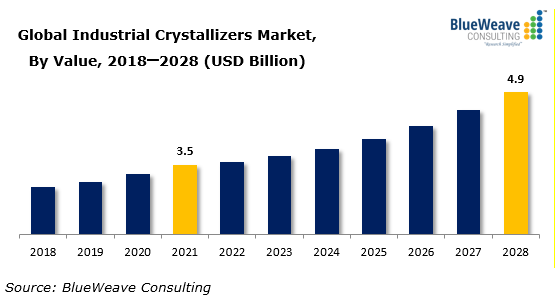 Read on GNW: Global Industrial Crystallizers Market to Grow at a CAGR of